Mr. Abdikadir nor osman has over 10 years in Financial management and organizational development. He has worked in blue chip companies such as Standard Chartered bank, nation Media group and Kenya Institute of management before joining the Water Sector in 2005. He joined the Board as Finance & Administration Manager before his appointment as the Chief executive officer in 2013. He holds Bachelors of Commerce and masters of Business Administration from university of Nairobi and USIU –Africa respectively. He also holds post-graduate diploma in project management from Kenya Institute of management and CPA qualifications. He has also attended several courses, workshops, seminars and trainings both locally and internationally.
Eng. Dionisius Njiru Nderi has over 30 years experience in the Water Sector. He is currently the Technical Services Manager in Northern Water Services Board overseeing the Technical Services of the Northern Water Services Board namely: Planning and Design, Implementation of Water and Sewerage Developments, Coordination of Water Provision under severe conditions and quality improvements of water provision.
He holds Bachelor of Science Degree in Civil Engineering from University of Nairobi. He is a registered with Engineers Board of Kenya and a Corporate member of the Institution of Engineers of Kenya. He has previously served as a Project Manager, District Water Engineer and Provincial Development Engineer in various parts of the country. He has attended various courses, seminars, workshops and training locally and internally. He has participated in development of various policy and project documents.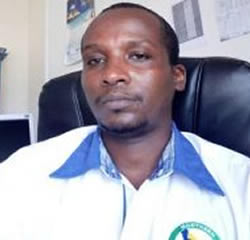 CPA Andrew Rage has over 13 years experience in public sector, in the fields of Finance, Accounting, Auditing and Management. He is currently the institution's Ag. Finance & Administration Manager. Before joining the Agency, he has worked with the National Treasury for over 5 years as an Accountant and prior to that as a Postal Officer with Postal Corporation of Kenya. He holds MBA Finance from Kenyatta University and a Bachelor of Business Management, Finance and Banking option from Karatina University. He is a CPA (K) holder and a registered member of the Institute of Certified Public Accountants of Kenya (ICPAK) in good standing. He is also a graduate of Certified Investment and Financial Analyst (CIFA). He has also attended several courses, workshops, seminars and trainings